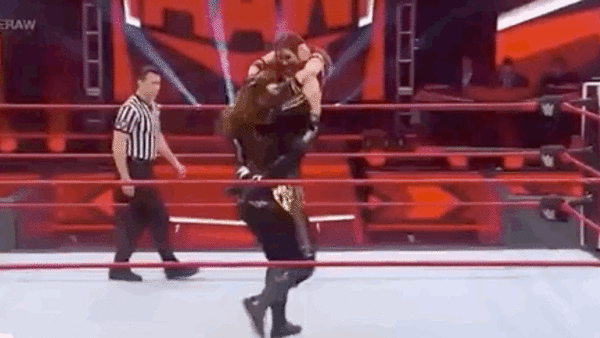 Nia Jax
wrestled
Kairi Sane
in a clunky match on last night's WWE Raw, lowlighted, unfortunately, by a botched Buckle Bomb.
As shown in the gif above, Jax hoisted the much smaller woman high off the ground before stepping towards the corner and lobbing the Kabuki Warrior into the turnbuckles. Kairi landed with an awkward snap, her head seemingly cracking back against the bottom 'buckle as she hit the mat hard, mobilizing Nia's critics upon impact.
Jax has a long, storied history of botches stemming all the way back to her debut, and there are multiple accounts of the likes of Becky Lynch, Ember Moon, Alexa Bliss, Zelina Vega, and more all being hurt by her between the ropes. That incidents like this are still happening years later is alarming, though we're still awaiting word on whether or not Sane was legitimately hurt here. Let's hope that she escaped without lasting damage as the bump looked very nasty indeed.
'The Irresistible Force' returned on 6 April's Raw after WrestleMania and will compete in 10 May's women's Money In The Bank match, having defeated Sane to earn that right just last week.